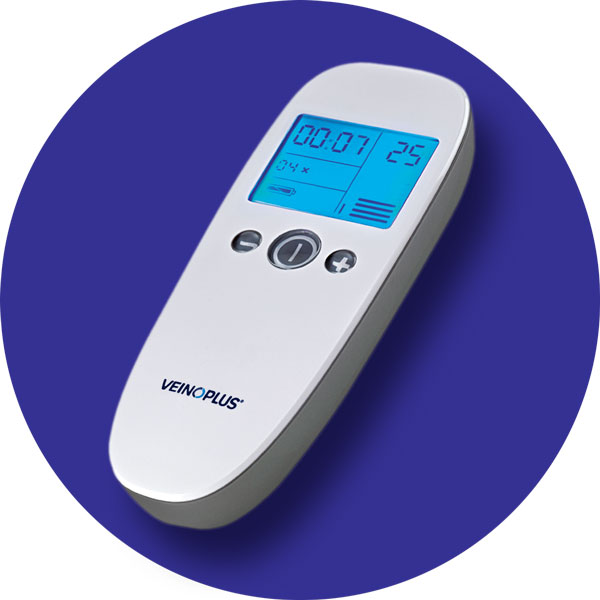 The VeinOPlus® Vascular Device: Unmatched Signal Pattern with Patented Electro-Medical Technology.
VeinOPlus® with Second Heart Technology is proven effective.
VeinOPlus® is a portable electro-muscle stimulator programmed for improving blood flow in the lower limbs. The VeinOPlus® Vascular device weighs 24 grams and powered by a 9-volt battery.
VeinOPlus® utilizes proprietary electro-medicine technology developed by Dr. Cywinski, the holder of patents and over 100 scientific publications in the field of electrical stimulation of human tissue.
The VeinOPlus Vascular device increases blood flow for patients living with chronic edema, post thrombotic syndrome, claudication limb pain, and hard to heal foot or leg ulcers. It's about treating the underlying vascular conditions and improving quality of life for patients living with these chronic vascular conditions.
FDA approved, and it works.
The VeinOPlus®, a class II device, is approved by the FDA and covered by Medicare and most private insurance companies.
VeinOPlus® documented effectiveness:
Treats calf muscle pump dysfunction (Griffin 2010)
Improves venous outflow 7x (Griffin 2010)
Reduces edema 80% (Zuccarrelli 2005)
Stimulates neuropeptides (endorphins) reducing pain by 80% (LeTohic 2009)
Lowers peripheral vascular resistance 30% (Griffin 2010)
Reduces chronic venous edema (Bogachev 2011)
Increases arterial inflow 5x (Abraham 2013)
Causes no significant oxygen consumption (Bieuzen 2012)
Causes no muscle ischemia (Bieuzen 2012)
Causes no change in heart rate (Abraham 2013)
Prevents venous stasis/deep vein thrombosis (Griffin 2010)
EMS of calf muscle prevents post-op VTE (Lobastov 2014)
Efficacy treating patients with shin bone fractures (Obolenskiy 2014)
Accelerates healing of venous ulcers 3x (Bogachev 2015)
Improves walking distance for claudicants (Ellul 2017)
Improves TcPO₂ levels and accelerates the healing of vascular ulcers (Beliard 2018)
Prevents DVT recurrence in patients with PTS and RVO (Lobastov 2018)
The above represents a listing of VeinOPlus studies, principal physician, and date of publication.