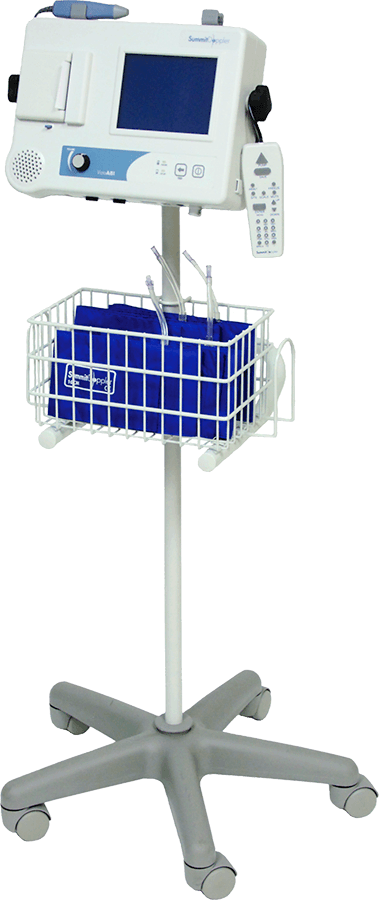 The VISTA AVS 500 ABI Vascular System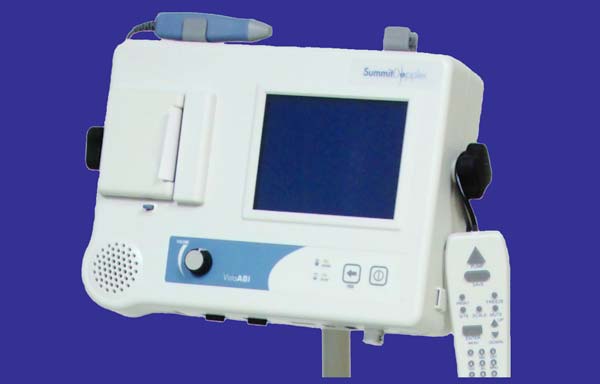 Four cuffs are used simultaneously to provide hard copy data in 10 minutes of application.
The Vista AVS System has the capability of performing four vascular examinations, including single-level ABI exams, seated ABI, PPG probe for performing Toe Brachial Index (TBI) exams, and Segmental exams for locating blockages or narrowing in the vessels after initial single-level ABI testing.
Cuffs are clearly labeled and includes a diagram to ensure correct placement, so minimal training is needed as comprehensive guidelines are provided.
VISTA - AVS Key Features:
Fast, automatic cuff inflation/deflation and highly accurate ABI calculations
Large display with fast intuitive touchscreen navigation
Graphic waveforms display with easy to follow test sequences
Sensitive bi-directional 8 MHz Doppler probe for obtaining waveforms
Obtains dual-ankle pressures at Posterior Tibial and Dorsalis Pedis arteries
Blood pressure cuffs for obtaining pressures and ankle waveforms
Pulse volume recording (PVR) waveforms are obtained with the cuff system
PPG probe for performing TBI exams for performing segmental studies
Software for reporting, annotating, storage, along with built-in printer
Convenient USB drive for data storage, transfer, and EMR interface
Durable stand with basket for storage of cuffs.
MedOne Group – Credit Application Form